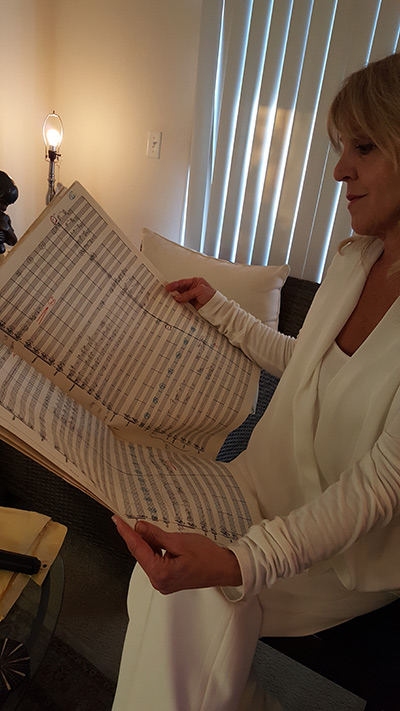 My Story
I was born in Canada, the daughter of a dashing father of Ukrainian heritage, and a beautiful mother, who was born in Belarus… When I was just five, my father died, leaving behind 4 children and a beautiful young widow, Rita. During the school year, Mama's parents and uncle moved to the city of Edmonton to help raise us kids, and in the summer the family went out to their farm - a rural wheat field in Alberta with a 2 ½ room house, a wood burning stove, an outhouse, a well for water, 2 huge gardens – and memories to last a lifetime.
When I was 5 ½, my grand uncle bought a piano for me - And that's when my musical journey began! I studied classical piano and performed recitals for about 7 years. Then, at age 13, I snuck into my older brother's bedroom and secretly listened to his LP's – Sarah Vaughn, Nina Simone, Antonio Carlos Jobim and more.
I was hooked!
Upon finding this new world of music, I gave up my classical piano studies. A year later my girlfriend Linda and I performed at the first BIG rock show in Edmonton ("Hullabaloo A' Go Go") in front of over 1,000 people. I wrote lyrics to a then- popular instrumental by "the Shadows" and the two of us (going by the name the "Colettes") sang and danced our way into the hearts of the audience. (I believe we "invented" the Macarena long before it ever became popular). We were a Hit! But when the promoter wanted to book us in a local night club, our mothers objected- and that was the end of my fledgling singing career…
Fast forward to the University of Victoria where I studied classical voice at the Victoria Conservatory of Music. The Conservatory at that time was housed in the historic and beautiful Craigdarroch Castle, a Victorian-era Scottish Baronial Mansion atop a hill overlooking the city – a very beautiful setting… The castle had a concert suite on the first floor and winding staircases that led to large and beautifully appointed rooms, each with their own grand piano!
In addition to my studies, I sang with three select classical vocal ensembles in Victoria, including a six-member madrigal group that toured Vancouver Island.
At the same time - realizing I was not aspiring to be a classical vocalist – I found a trio of great musicians and started singing in a few Victoria jazz clubs.
After 5 years, I returned to Edmonton to study Jazz. Simultaneously I sang one season with the Edmonton Opera Chorus - the classical/contemporary dichotomy was fun and challenging! Then I was honored to become the first Canadian vocalist for American trombonist, Bob Stroup - playing various clubs to full houses in Edmonton. My favorite was a post-play (Shakespeare) gig we did at Edmonton's Winspear Theatre late into the night. Bob had started the Grant MacEwan Jazz College where I was studying and asked me to be his vocalist. Bob Stroup was instrumental in putting Edmonton on the map as Canada's "Jazz City" for several years in the late 70's and early 80's. My favorite memory from that time was when Betty Carter came to Edmonton for a show and did a workshop at the college. She asked if anyone knew how to scat. My fellow singers pointed to me - even though my scat chops were quite "virginal". So Betty Carter and I "traded fours" - I was over the moon !!
That summer, I participated in a Jazz Camp at the Banff Springs School of Fine Arts and studied and sang (at the Banff Springs Hotel) with "Big Miller" a wonderful American Blues vocalist, a larger-than-life personality, and a huge favorite in the "Jazz City" music scene.
Then I won a scholarship to study at the international Dick Grove Music School in Studio City. Here I completed Dick's Composing and Arranging (CAP) Program, culminating in a final project for 40-piece orchestra. Dick really believed my background as a vocalist gave me a special approach to writing music and considered me among his top CAP students for that semester. At that time, I also performed with the Phil Sobel Big Band on the Queen Mary and several Los Angeles clubs with pianist, Joan Grauer. I also met two life-long friends, and at-the-time roommates at the School - Lolita Ritmanis and Lorenz Rychner. Lolita asked me to sing my first original love song, "Forever This Time" at her wedding with Lorenz on keyboards and Dave Koz on sax. Lolita's family became, and remain, my second family. I lived in and loved LA for 40 years.
After a long hiatus during which I pursued a career in entertainment business management, I have returned to my True Dream with renewed passion. In the last few years, I have performed in Hollywood, Thousand Oaks, Ventura, Three Rivers and my hometown, Edmonton. I strive to bring my various vocal stylings (affectionately penned "Jazz, etc.") to my shows - infused with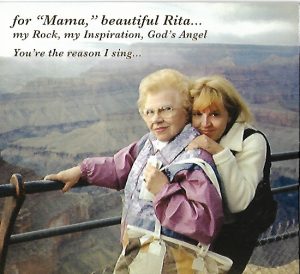 intimacy and fun.
In 2015 I recorded my first CD, "With Heart and Soul" - lovingly dedicated to my Mother, Rita (my forever best friend). You can hear it on You Tube, Amazon, iTunes, and Spotify. This album covers various genres and decades of well-known songs.
My second CD - "Songs from the Raggedy Road" (inspired by my somewhat "raggedy" yet beautiful personal journey through life) was released September 1st, 2019. This album features several of my original pieces (including a re-cap of my orchestral piece "Shhh, the Sky is Ours/Ode to Big Sur").
In 2020, I returned to my home town of Edmonton, Alberta where I am continuing my musical journey. I am grateful to all the amazing musicians and other mentors I have had the honor of working with, both in the US and Canada.
---
My albums are available to purchase here!