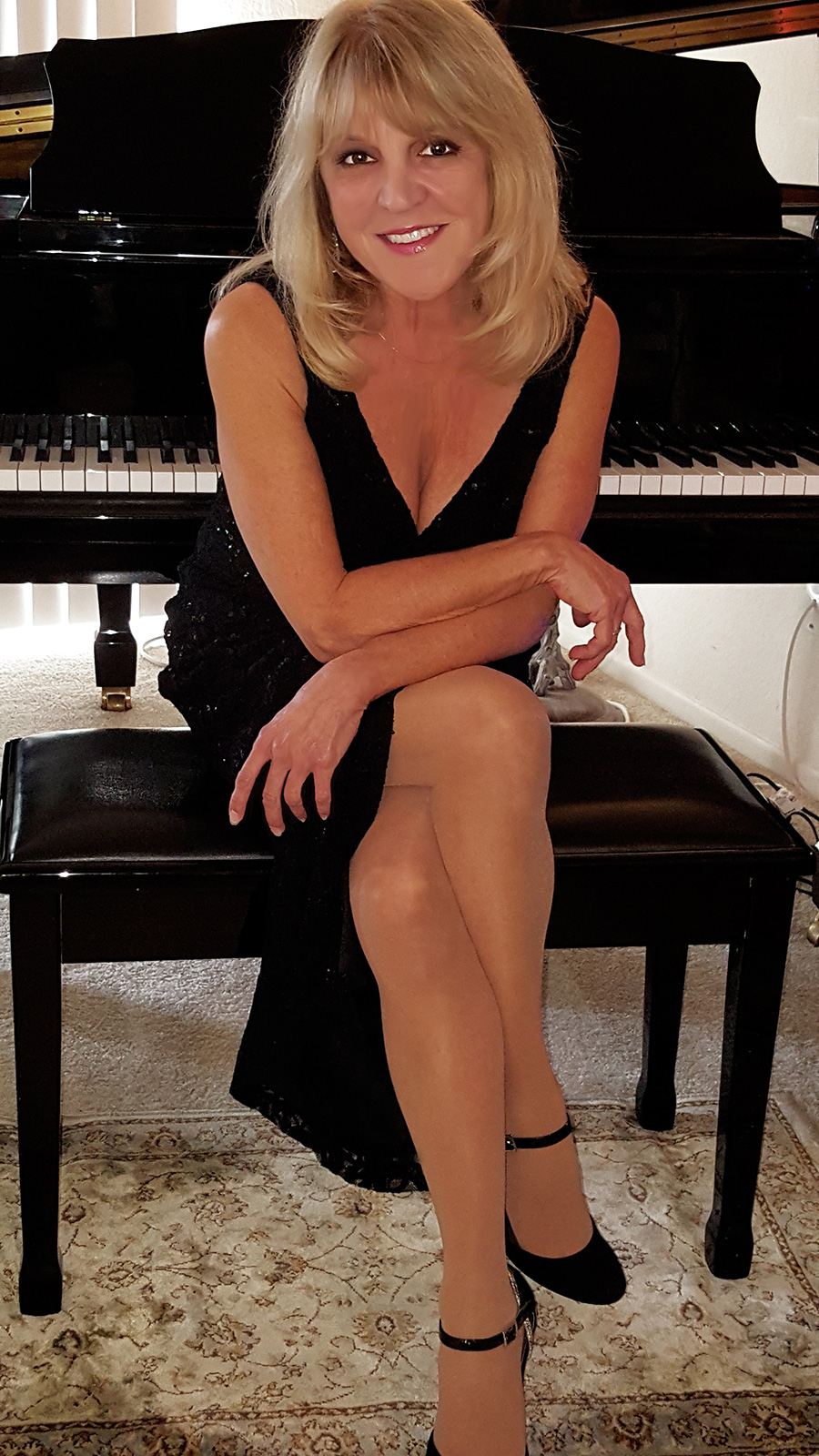 Claudia Koval is an American Jazz vocalist and a songwriter who hails from Canada. She studied classical piano as a young girl in Edmonton, and later classical voice at the University of Victoria – where she simultaneously performed with a local jazz trio.
She temporarily moved back to Edmonton, at that time known as Canada's "Jazz City." Claudia sang in various venues in Edmonton, often performing alongside well-known Canadian artists, and was honored to be the first Canadian female singer for American trombonist Bob Stroup, who co-founded Edmonton's Grant McEwan College Jazz Program (which she attended).
Before moving to Los Angeles on a music scholarship, she also participated in a Jazz Camp at the Banff School of Fine Arts studying & singing with American Blues artist, "Big" Miller.
Once settled in Los Angles, Claudia furthered her music studies at the Dick Grove School of Music in Studio City where she graduated with honors in the Composing and Arranging Program (CAP). Here she composed and arranged for various contemporary styles, which culminated in her final project for a 40 - piece orchestra.
She then took an extended "detour" from her musical ventures, obtaining an MBA at UCLA, and focusing on a second career in entertainment business management in Los Angeles until 2014. Happily, Claudia is now pursuing a re-inspired career as a singer and song-writer.
In the last several years, she has performed in Canada, Los Angeles and Ventura County. Claudia released her first CD entitled "With Heart and Soul", in 2015 which is available on iTunes (Apple Music), YouTube, Amazon, and Spotify.
Claudia is releasing her new CD, "Songs from the Raggedy Road," on September 1st, 2019, This album is inspired by her life journey with her emphasis on various vocal stylings, which she affectionately describes as "Jazz, etcetera..." It features several of Claudia Koval's original works, as well as covers of a few of her favorite songs.

With the release of Claudia Koval's CD, "Songs from the Raggedy Road", she has created a true work of art.
~ Ron Boustead, Resolution Mastering
Thank you for trusting me in bringing your talents and creativity to my studio. It's a beautiful compilation of great songwriting and heartfelt singing. You should be proud of it.
~ Dori Amarilo, Mi Casa Studios
Claudia Koval is a fine local singer who does justice to the lyrics she interprets. Her voice is attractive and sultry (when it fits the mood of the song), and she swings at all tempos. Whether it's "Ain't Misbehavin', "Boulevard Of Broken Dreams," "The Shadow of Your Smile" or "Sentimental Journey," Clauda Koval comes up with something fresh to say through her phrasing.
With Heart and Soul is a happy surprise.
~ Scott Yanow
Running through a genuinely fearless set of tunes, the erstwhile Edmontonian impressed across the board at Darling's yesterday and had patrons like Sheila Jordan nodding along. Whatever Claudia Koval is picking up inLA should be distributed around town.
~ The Edmonton Journal Review
Claudia Koval has a smooth, creamy voice that lends itself well to singing standards - with delicate delivery featuring gentle jazz licks, precise enunciation and a slight quaver in her voice that adds to the emotional arc of each song.
~ Elliot Zweibach, Cabaret Scenes Magazine
I don't get great recordings like this very often, so it was a pleasure to listen to, and Master. If you love Jazz, you will love Claudia Koval's album – "With Heart and Soul". A throwback to Jazz bands of the past complimented by Claudia's silky, smooth vocals! Well done, I can't wait for your next project!
~ Damon Mapp, the Mastering Source, Texas
Claudia Koval's solo cabaret debut in support of her CD, "With Heart and Soul," was a relaxed-paced, easygoing affair that showcased her fine voice and delightfully swinging style.
~ Les Traub, Cabaret Scenes Magazine
The strongest and most original performance on the album is "The Shadow of Your Smile". Koval's sultry voice is well-suited to the song's simple, melancholy melody and poetic lyrics. Koval also does a nice job with "The Windmills of Your Mind," lending a theatrical flair to the late 1960s tune.
~ Victoria Ordin for Cabaret Scenes